In Memory Of Joseph Greenhalgh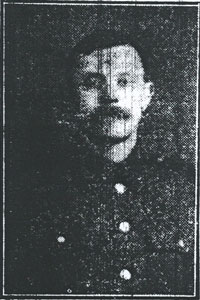 Private 353008 2nd/9th Bn., Manchester Regiment
who died on Tuesday, 9th October 1917.

Locating when & where my Great Grandfather Joseph Greenhalgh fell during the Great War, was one of the primary reasons for researching my family history & started this web site. I had no information about my Great Grandfathers service history, so I contacted the commonwealth war graves commission who managed locate him, with the limited information I did have.
He served with the 2/9th Bn Manchester regiment, which lost 238 men on the day my Grandfather died which was the 9th Oct 1917. This was the day that the battle for poelcapelle, was fought.
In February 1918, what was left of the battalion amalgamated with the 1/9th Battalion to form the 9th Battalion.
2/9th Battalion, The Manchester Regiment, Territorial 2nd Line, Ashton
The regiment was attached to the 198th Brigade, which was part of the 66th Division. Below is a the full detail list of all of the brigades in this division.
197th Brigade: 3/5th Lancs Fus.; 2/6th Lancs Fus.; 2/7th Lancs Fus.; 2/8th Lancs Fus.
198th Brigade: 2/4th E.Lancs.; 2/5th E.Lancs.; 2/9th Manchester.; 2/10th Manchester
199th Brigade: 2/5th Manchester.; 2/6th Manchester.; 2/7th Manchester.; 2/8th Manchester.
Pioneers: 10/DCLI
Battalion Battle Honors France
Ypres, 1917 Poelcapelle
Somme, 1918 (1st Battle) Rosieres Hindenburg Line
Cambrai, 1918
Click here to view Private J Greenhalgh Details on CWGC
For a hisotry of the battle in which my Grandfather died, please visit the following CWGC