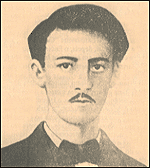 Son of William Greenhalgh, Joćo Guilherme Greenhalgh was born in Rio de Janeiro on June 28, 1845. Joćo's Grandfather was Richard Greenhalgh who was born 1775 in Lancashire and died in Dec, 25, 1843 in Holcome.
William came to Brazil around 1815, with his brother Richard (born Feb 20th, 1798 in Bury) . In 1862, Joćo Guilherme Greenhalgh passed out of the Marine School, finishing the course as the best student.
In 1865 he boarded the Pamaķba corvette, and left for battle with Paraguay. On the 11th June during Riachuelo's battle, three Paraguayan steamships boarded her.
Joćo Guilherme fought bravely. As he saw a Paraguayan official lowering the Brazilian flag, and he fought to regain it killing the Paraguayan with a single shot.
He was immediately wounded by the enemy, by a rifle shot, soon after Joćo was killed by an axe blow which decapitated him.
He died hugging the Brazilian flag. Soon after that, the Amazonas frigate came to help of Paraiba, sadly too late for Joćo, and many of the crew.
Today Joćo Guilherme Greenhalgh is considered one of the greatest Brazilian Marine heroes. His name was given to several ships and also to a merit medal of the Naval school
I would like to thank ROGÉRIO GREENHALGH ULYSSÉA, from Brazil for sending me the picture and the information